Instagram Business Profile – Instagram update
You may have recently noticed that some Instagram accounts now have a Contact button next to the Follow button. What you are seeing is the beginning of the roll-out of Instagram Business Profiles.
What are Instagram Business Accounts?
Instagram Business Profiles appear to be very similar to the early Facebook Business accounts that have been around for some time now. Essentially, they allow businesses to interact with the wider Instagram community in different ways than you can on a personal profile. An Instagram Business Profile also has special tools such as analytics and ways for businesses to pay to promote certain posts.
Is an Instagram Business Profile right for me?
Because it is so early on in the roll-out of Instagram Business Profiles it is hard to definitively say whether business profiles are a good thing for users. What we can say is that an Instagram Business Profile does give you access to certain tools and marketing options that you may find useful.
However, an Instagram Business Profile may also open you up to costs that are not currently part of personal accounts. In the future, businesses using Instagram for business may not have the choice and will be forced to use a Instagram Business Profile.
How to set up your Instagram Business Profile
1. Check whether you can access your Instagram Business Profile
Before deciding whether an Instagram Business Profile is right for you you will need to see whether you can actually access your Instagram Business Profile. To do this, firstly make sure your Instagram app is the latest current version.
Once you have confirmed you are using the latest Instagram version you will need to access the app and tap on your profile photo in the bottom right corner.
When the page changes you will then need to tap on the settings wheel in the top right corner.
On the setting page you should see Switch to Business Profile. Obviously, if you do see this option then you have access to the new Instagram Business Profile. If you cannot see switch to Business Profile there are a couple of options you may wish to try that we've noted below.
Cannot Switch to Instagram Business Profile?
Make sure you have connected your Instagram profile to your Facebook business page. We have been told by a number of clients that they have had to do this before they were able to see the option to switch. Please note that you are also given the option to connect your Facebook after you've switched to your Business Profile.
Add your website and/or contact email address to your profile. This seems to create a link on your account that can prompt Instagram to provide you access to your Instagram Business Profile.
Wait. Unfortunately as this is a slow roll-out of a new feature you may be required to simply wait until it is available to you. It is also too early to know what the exact requirements are for this new feature.
2. Configure your Instagram Business Profile
To learn about the new features of your Business Profile simply tap on the Switch to Business Profile option, and then the View Features link.
When you're ready to actually make the switch to your new Instagram Business Profile you'll be asked to connect your Business Profile to your Facebook business page. To do this, click the blue button to continue and connect to your Facebook business page.
Once you're finished, you'll be taken back to your Instagram profile, which will now be a business profile.
Once your account is setup, you can decide whether you want to remove, or add, some personal information such as your location. You can also provide the option for users to call or text instead of email and set up tags specifying what your business does.
3. Explore the new features
To access your Instagram Insights, look at the top right of your new business profile next to your settings wheel icon. You'll see a bar graph icon that will take you to your Instagram Insights.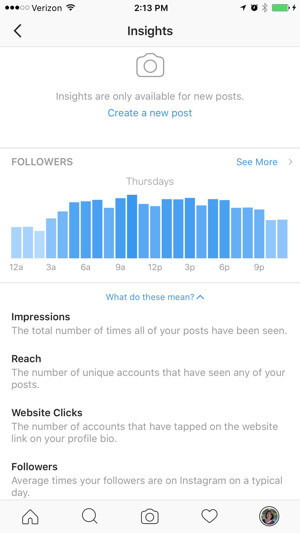 If you have any questions before then please feel free to get in touch.
HarveyInsights